Where is Jesse Jackson Jr.? As absence lengthens, pressure mounts.
For six weeks, Chicago voters have wondered about Rep. Jesse Jackson Jr.'s whereabouts. With no word from the congressman about his 'mood disorder,' questions are growing sharper.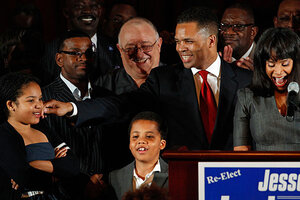 M. Spencer Green/AP/File
Where is Jesse Jackson Jr.?
The question is now in its sixth week after the Illinois congressman disappeared from the public eye due to what his office is calling a "mood disorder."
The diagnosis was released by his office only last week. The delay in diagnosis, and his office's refusal to provide any additional details such as who is treating him, has increased the political pressure on Jackson at a time he was already facing legal challenges as a result of a House Ethics Committee investigation.
Fellow congressional Democrats from Illinois have urged Mr. Jackson to be more forthcoming about his absence, which began June 10. Sen. Dick Durbin and Rep. Luis Gutierrez have noted that Sen. Mark Kirk (R) of Illinois, who suffered a stroke in January, kept his constituents up-to-date on his progress via regular postings on his website.
"As a public official ... there reaches a point when you have a responsibility to tell people what you're facing and how things are going, Senator Durbin said.
---