Colorado shooting: Why calling Obama 'anti-gun' is smart politics
The gun lobby's bid to preempt new gun-control measures appears to be working. Even in the wake of Colorado massacre, Obama – dubbed by the NRA 'the most anti-gun president in history' – is defending gun rights.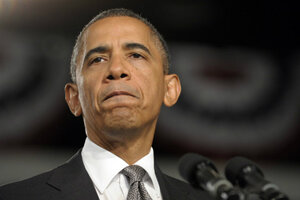 Susan Walsh/AP
Following last week's massacre at a movie theater in Colorado, President Obama has offered words of healing and condolence, including a trip to the state Sunday to meet with families and survivors. Never in any of the president's or his administration's public statements has there been a suggestion that he would use the incident to advocate for tougher guns laws.
In fact, to the dismay of gun-control supporters, Team Obama has gone out of its way to affirm the president's support of gun rights since the Colorado tragedy. When asked Sunday whether Mr. Obama might propose new policies affecting access to guns, White House press secretary Jay Carney sounded more like a spokesman for the National Rifle Association (NRA) than for a Democratic president.
"He believes we need to take steps that protect Second Amendment rights of the American people but that ensure that we are not allowing weapons into the hands of individuals who should not, by existing law, obtain those weapons," Mr. Carney told reporters on Air Force One en route to Colorado.
But gun-rights advocates are undeterred. At the NRA's special website GunBaNObama.com, there is a message the 4-million-member NRA has been promoting since before Obama took office: "Obama would be the most anti-gun president in American history."
---