Fiscal cliff: Will GOP put taxes on the table to avoid blow to economy?
In a bid to blunt attacks by Democrats, Sen. Pat Toomey reprises his 2011 offer of a GOP tax hike. Republicans, he says, are not determined to protect the wealthy at all costs and tax hikes could be part of a deal.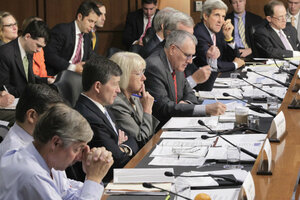 J. Scott Applewhite/AP/File
Calling Democrats' willingness to allow the country to go over the year-end "fiscal cliff" both "stunning" and "disturbing," Sen. Pat Toomey (R) of Pennsylvania argued in a speech Tuesday at the Brookings Institution that Republicans had proven a willingness to include tax hikes to fix America's fiscal trajectory, even in the face of their pledge to never raise taxes.
Senator Toomey's speech comes shortly before Republicans and Democrats will tangle on competing tax proposals on the floor of the House and Senate later this week. Republicans are pushing for a full extension of the Bush tax cuts, saying anything less is a massive tax increase on small businesses. Democrats, on the other hand, say Republicans' lack of willingness to pass their plan – the extension of tax cuts for household income up to $250,000 – right away shows the GOP is holding out higher taxes on 98 percent of Americans for tax cuts on the wealthiest 2 percent.
Toomey's speech also came in response to remarks from Sen. Patty Murray (D) of Washington, the Senate's fourth-ranking Democrat, in the same forum the week prior. In her July 16 speech, Senator Murray argued that unless Republicans agree to raise taxes on the rich, Democrats will not back a compromise measure to avoid $600 billion in automatic spending cuts and tax increases on Jan. 1.
---