How tea party and its unlikely allies nixed Atlanta's transit tax
The tea party partnered with local Sierra Club and NAACP officials to defeat a $7.2 billion referendum aimed at unsnarling Atlanta's traffic. Voters voted no on the referendum by a margin of 63 percent.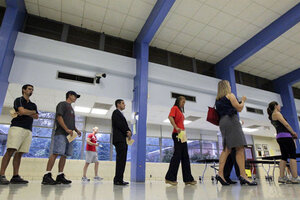 John Spink/Atlanta Journal-Constitution/AP
It was the Davids versus the Goliaths. On one side of a $7.2 billion referendum aimed at unsnarling Atlanta's traffic stood the two most powerful men in Georgia, and an unlikely pair to boot: Gov. Nathan Deal, a Republican, and Atlanta Mayor Kasim Reed, a Democrat.
On the other side stood the little guys: Debbie Dooley of the Atlanta Tea Party Patriots and Colleen Kiernan from the Georgia chapter of the Sierra Club. Despite seemingly dueling ideologies, they found common cause to lobby against a 1-cent-on-the-dollar tax to pay for 157 traffic-friendly projects in the metro area over 10 years.
Also on that side was local NAACP president John Evans – another unlikely partner, especially for the tea party, which some critics have seen as anti-minority and anti-immigrant.
The establishment bipartisans had a reported $8 million on hand to sell the transit package. The tea party alliance has been quoted as having $15,000, but tea party member Julianne Thompson, reached by the Monitor Wednesday, laughed that off. "We had maybe a few hundred dollars," she says.
On Tuesday, the "Sierra Tea" nexus claimed giant-killer status: Voters shot the Transportation Investment Act down, yelling "no" by a margin of 63 percent – despite warnings from supporters of imminent urban decline and worsening traffic woes. About 670,000 metro Atlantans voted.
---