Tax reform takes bipartisan step in Senate. Could something come of it?
To 'develop trust' before taking on the heavy lifting of tax reform, Senate tax-writers are attempting to proceed along bipartisan lines, starting with the extension of a reduced number of expiring tax breaks.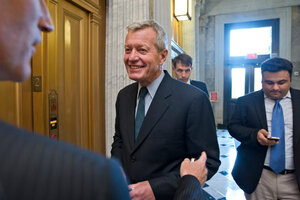 J. Scott Applewhite/AP
The comprehensive tax reform urged by many in Congress and both presidential candidates may have taken a small step forward on Thursday, as the Senate Finance Committee passed a package of some 50 tax provisions that have expired or are about to expire at year's end on a bipartisan, 19-5 vote.
The bill also fixes one Congress's perennially recurring crisis points with a two-year "patch" to prevent the Alternative Minimum Tax (AMT) from hitting millions of middle-class Americans after Jan. 1. The bill's price tag comes to roughly $205 billion over the next decade.
While that's small potatoes in terms of a more than trillion-dollar federal budget this year alone, Senate Finance Committee Chairman Max Baucus (D) of Montana saw the so-called tax-extenders debate as preparation for a larger tax-reform push in 2013.
The committee pared 20 provisions from last fiscal year's tax-extenders package, for example, a dry run for the type of tax-preference cleansing that members of both parties want in exchange for bringing down tax rates.
"No bill is perfect, but what's important is this shows the American people that Congress can work together to get things done," Senator Baucus said in a statement after the vote. "This bipartisan work is just what all members of Congress will need to do with the fiscal cliff looming and tax reform on the horizon."
---