How culture and politics collided over a Chick-fil-A sandwich
Two days after thousands lined up at Chick-fil-A restaurants to stand in solidarity with its CEO, Dan Cathy, gay activists plan 'kiss-ins' outside its outlets to confront what they see as antigay bigotry. Today, brand solidarity crosses from economics into culture, even politics.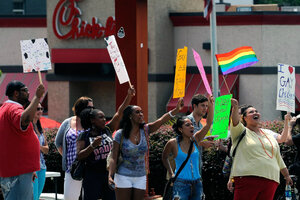 David Tulis/AP
After Chick-fil-A had a "record-setting" day on Wednesday, as thousands lined up to buy chicken sandwiches to show solidarity with the sandwich shop, gay rights groups planned their own protest on Friday: a same-sex "kiss-in" to draw attention to what they say is the company's bigoted stance toward gays.
The peculiar uproar over Atlanta-based Chick-fil-A has been fueled by politicians, both conservative and liberal. Liberal mayors have denounced the company's CEO, Dan Cathy, for expressing "antigay" views, while conservative politicians urged Americans to stand up for religious freedom and free speech by patronizing the business. That culminated in "Chick-fil-A Appreciation Day" on Wednesday, when some of the company's 1,600 restaurants ran out of chicken after seeing as much as a 200 percent increase in their daily business.
More broadly, how a slab of Southern-style chicken on a fluffy bun became a cultural rallying point is a story that some political scientists say represents a new evolution in the confluence of business, culture, and politics. That story may also, they suggest, shed light on the simmering dynamics around the fight for the US presidency.
"This is an event that won't soon be forgotten on both sides, and it's kind of a wake-up call for what's at stake in the November elections for very different groups in the country," says Merle Black, a political scientist at Emory University, in Atlanta. "For one thing, probably everybody who showed up in support for Chick-fil-A will be voting in the fall, and I doubt they'll be voting for Obama."
---