Illegal immigrants' road trip: riding a 'freedom' bus or flouting the law?
About 30 illegal immigrants set out Aug. 1 for a cross-country, 'no papers, no fear' bus trip. Supporters say the riders are highlighting the need for immigration reform. Detractors say they are thumbing their noses at the law and should be detained.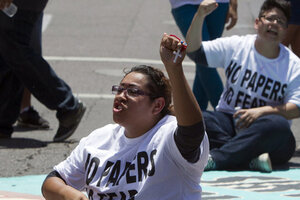 Nick Oza/AP
Inside a small, bright orange building in central Phoenix, rebellion is in the air as young Latinos file in and out of a room, dropping backpacks and suitcases on the floor in preparation for an unusual act of civil disobedience.
They want the world to know that they are living in the United States without proper legal status, something most people in the same situation strive to keep secret for fear of deportation. About 30 students, mothers, and day laborers this week set out on a bus headed to the Democratic National Convention in Charlotte, N.C., that starts Sept. 3, to cast a spotlight on what they say are flawed immigration policies.
Along the way, the group plans to stop in states that, like Arizona, have adopted – or tried to adopt – strict laws to discourage illegal immigration. On Sunday they are in Austin, Texas, after stops in Colorado and New Mexico.
"To me, it's about being undocumented without being scared," says Isela Meraz, a 29-year-old bus rider. "I feel I'll be representing a lot of people who are afraid of coming out of the shadows."
---