Obama's 'DREAM Act': How it will work is still a work in progress
The official responsible for carrying out Obama's 'DREAM Act' answered questions Tuesday on the illegal immigrants program, but said final details will be known only on Aug. 15, when the first applications are accepted.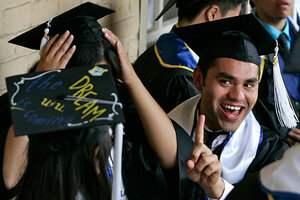 Jonathan Alcorn/Reuters
Ever since President Obama announced in June that he was halting deportations of otherwise law-abiding young immigrants brought to the US illegally, the immigrants (and restive members of Congress) have been eager to learn how the program would work.
They are about to find out, but only on Aug. 15, the day US Citizenship and Immigration Services (USCIS) begins accepting immigrants' applications for a special status deferring immigration action against them for two years, says USCIS Director Alejandro Mayorkas, the man largely responsible for carrying out Mr. Obama's policy.
Mr. Mayorkas, appearing Tuesday at a seminar held by the nonpartisan Washington-based Migration Policy Institute, had answers for a number of questions raised by immigrant advocates and members of Congress alike about how, specifically, the government would carry out Obama's order that, in addition to staving off deportation, would allow eligible individuals to apply for work permits.
---