Mitt Romney's illegal immigration problem: Would he reverse Obama's order?
Some young illegal immigrants can begin applying for deportation deferrals Wednesday under a politically popular move by President Obama in June. It puts Mitt Romney in a bit of a pickle.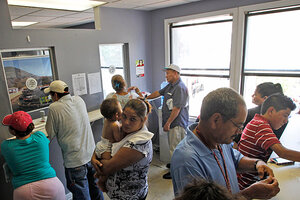 Pablo Martinez Monsivais/AP
As some young undocumented immigrants begin applying Wednesday for the protections against deportation promised by President Obama in June, a thorny political problem for a potential President Romney is taking shape.
Mitt Romney has suggested that Mr. Obama's directive to defer deportations for illegal immigrants pursuing their education or in military service is little more than an election-year ploy. But as president, would Mr. Romney be willing to undo a politically popular decision that conservatives have derided as an unconstitutional power grab "poisoning the well" of immigration reform?
"How do you keep from totally angering your base, which is very anti-illegal immigration, and at the same time come up with solutions" for a sympathetic part of the undocumented community, asks Roy Beck, executive director of Numbers USA, a group that urges lower immigration levels.
Congressional Republicans, led by House Judiciary Chairman Lamar Smith (R) of Texas and his Senate counterpart, Chuck Grassley (R) of Iowa, have been incensed by the president's decision – and are looking to Romney to set it right.
---