What if US rockers were convicted of 'hooliganism' like Russia's Pussy Riot?
Bands from 'Rage Against the Machine' to the 'Dixie Chicks' have harshly criticized political leaders in the US. Like Russia's 'Pussy Riot,' shouldn't they be charged with hooliganism?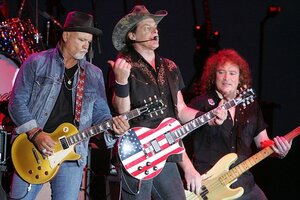 Bob Wellinski/LaPorte Herald Argus/AP
The two-year prison sentence for the women of "Pussy Riot" has us musing about the political shenanigans of American performers.
Pussy Riot, you'll recall, is the Russian band convicted of "felony hooliganism" for criticizing President Vladimir Putin in its performance of a "punk prayer" in the Christ the Savior Cathedral in Moscow in February. The episode – the women wore bright dresses and balaclavas as they lip-synched "Mother of God, cast Putin out" – lasted less than a minute before security hustled them away.
Would such a thing in the United States be considered "hooliganism" (a wonderful word bringing to mind European soccer fans and some congressional hearings)? If so, should that be a punishable offense in this country, and what would be an appropriate legal response?
Let us consider some examples.
Former Metallica guitarist and Megadeth founder Dave Mustaine has called President Obama "the most divisive president we've ever had."
Not only that, he's become a birther, according to a Daily Beast report.
"I know he was born somewhere else than America," Mustaine told a Canadian television show. "How come he was invisible until became … whatever he was in Illinois?"
---