Why Claire McCaskill wants Todd Akin to stay in Missouri race
Sen. Claire McCaskill (D) spent $2 million on ads in the GOP primary and got what she wanted: conservative Rep. Todd Akin as her opponent. Now that he's damaged goods, so much the better.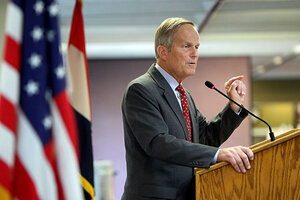 Christian Gooden/St. Louis Post-Dispatch/AP
As long as Rep. Todd Akin stays in the Missouri Senate race, Sen. Claire McCaskill might be the most fortunate Democrat running this cycle.
She appeared headed for defeat in November in a state that has been trending Republican. Her steadfast support for President Obama, plus stories about her private plane – a failure to pay taxes on it and its inappropriate use for Senate business – handed her an uphill fight.
Now Senator McCaskill's campaign has new life. Donations from around the country are flooding into her campaign coffers, especially from women voters outraged by Congressman Akin's comment Sunday that a woman's body can prevent pregnancy in a case of "legitimate rape."
Tuesday afternoon, Akin reaffirmed his decision to stay in the race in an interview on the Mike Huckabee radio show, even as Senate Republican leaders put out another statement pleading with Akin to "do the right thing" – code for dropping out. Mitt Romney also released a statement calling on Akin to "exit the Senate race."
McCaskill, of course, wants Akin right where he is, a wounded challenger who can be beaten in November. In fact, McCaskill invested in helping Akin win the GOP primary earlier this month, spending $2 million on ads describing Akin as "too conservative." She got her wish, as Akin won in a three-way race with 36 percent of the vote.
---