Convention bounce: How much will Romney and Obama get?
The numbers don't lie - political conventions give their respective party candidates some positive momentum going into the general election season.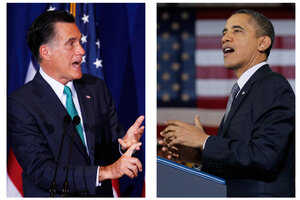 Carolyn Kaster/AP
It's a perennial question in Washington: How much "bounce" do the Democratic and Republican conventions give their nominees?
"Both get a bounce," says Republican pollster David Winston. "You get to make your case without interference."
The numbers seem to bear him out. One Gallup analysis in 2008 showed that, of 22 conventions between 1964 and 2004, only two candidates received no uptick in the polls: Democrats John Kerry (2004) and George McGovern (1972). The median increase: 5 points.
Research by Larry Sabato, a political scientist at the University of Virginia in Charlottesville, shows that in more than 24 conventions since 1960 Democrats have averaged about a 7.3 point jump in the polls, and Republicans about 6.4 points.
But how much the candidates actually benefit from any surge depends in part on where they stand before the convention. A standard-bearer who starts at 36.5 percent and goes up 7.3 points is no better than one who starts at 32 percent and goes up 6.4 points. The increase is 20 percent in both cases.
---