How can GOP steal young voters from Obama? Jobs.
In a shift, Republicans at their national convention are showcasing young voters. They acknowledge that President Obama has the cool factor. But they think they can woo young voters – many of whom are out of work – with jobs.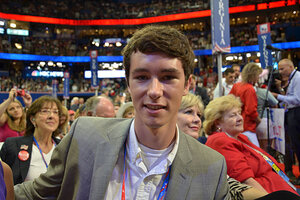 Warren Richey/The Christian Science Monitor
Evan Draim, a delegate from Virginia sitting in the front row at the GOP convention, isn't even old enough to vote – yet.
The youngest delegate here, the high school senior turns 18 in just over two weeks. And he's not buying the idea that his party has an image problem among young voters.
"Young people want the government that gives them ... freedom and independence," says Evan. "The momentum is definitely on our side."
The Republican Party is doing all it can to showcase young voters at the convention, and – in marked contrast to 2008 – to reach out to them. But it sometimes struggles to achieve the hipness of the Democratic Party – featuring songs like "My Girl" and "Shout" at the convention doesn't do much to dispel the stereotype of the GOP as a party of old white guys – and faces challenges among a generation that tends to see GOP views on social issues as out of touch.
"If they show a sea of older white people [at the convention], young people are pretty sensitive to that," says Peter Levine, director of the Center for Information and Research on Civic Learning and Engagement (CIRCLE) at Tufts University in Medford, Mass. "It's a turnoff."
---