Georgia flouts federal order, withholds lunch ladies' unemployment benefits
States nationwide are trying to cut costs by reining in unemployment benefits, but Georgia has taken a bold step by refusing to pay seasonal workers. The Obama administration is concerned.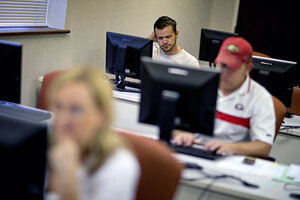 David Goldman/AP/File
Georgia has set up a showdown with the Obama administration over how deeply states can cut jobless benefits by refusing to give school bus drivers and lunch ladies unemployment benefits during their summer breaks.
The issue echoes beyond Georgia because other states including Pennsylvania, Michigan, Missouri, and Arizona have trimmed unemployment benefits in various ways to rein in costs. Florida, for example, has a proposal to require drug tests for recipients to be eligible for benefits, while other states have reduced the total number of weeks that benefits can be received.
For its part, the Georgia unemployment insurance fund is broke, owing Washington more than $700 million for money it borrowed during the recession – adding to Georgia Labor Commissioner Mark Butler's sense of urgency.
But his open defiance of a US Labor Department order to restore unemployment benefits to seasonal workers is seen as the boldest move yet by a cash-strapped state. The Labor Department has responded by threatening to withhold the $72 million it pays Georgia annually to administer the program.
---