DREAM Act-lite: 7 in 100 eligible illegal immigrants apply, so far
Some 82,000 young illegal immigrants, or almost 7 percent of those thought to be eligible, sought a deportation reprieve in the month since the government began accepting applications under the new Obama policy.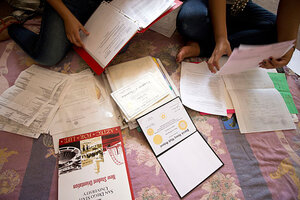 Gregory Bull/AP
When the Department of Homeland Security opened applications in mid-August for undocumented immigrants who are students and soldiers to get a reprieve from deportation, the big question was how many would step out of the shadows and into the applicant pool.
Now, the numbers are in for the program's first month. As of Sept. 13, at least 82,000 illegal immigrants have filed applications to take the government up on its offer, a program known as Deferred Action for Childhood Arrivals (DACA), the DHS announced Friday. That's almost 7 percent of the 1.2 million illegal immigrants whom advocacy groups estimate are currently eligible for the program.
"All in all, we're very satisfied," not only with the number of applicants but "also with the way the program is being implemented," says Marielena Hincapie, executive director of the National Immigration Law Center.
While some advocates may have expected "hundreds of thousands" of applications out of the gate, Ms. Hincapie says that was never a realistic proposition because of the complexity of the application, concerns from illegal immigrants about making themselves known to the government, and questions about how a potential President Mitt Romney would handle the program.
Another 500,000 or so individuals will meet eligibility requirements in the future, according to an analysis by the Migration Policy Institute (MPI), for a total of about 1.7 million potential applicants.
Of the 82,000 people to apply, 63,000 have appointments scheduled for the recording of biometric data. Twenty-nine cases have already been resolved, with 1,660 more cases ready for final review, according to DHS.
The rapidity with which DHS has handled some applications left long-time critic Rep. Lamar Smith (R) of Texas wondering whether the applicants were thoroughly vetted. Moreover, Representative Smith said in a statement Wednesday, the speed with which DACA applicants moved through the system raised his eyebrows about whether their cases received preference over other immigrants.
---