Can GOP survive its 'minority problem'?
Polls show that the GOP continues to be 'the party of old, white men' – and that could be decisive in the 2012 presidential election. Demographics suggest that the party must change, and soon.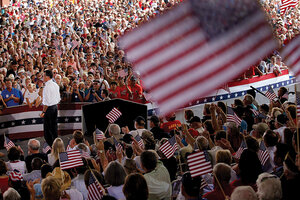 Brian Snyder/Reuters
Some Republican strategists are already preparing for the worst. The numbers, frankly, are dismal. Nearly 2 of every 3 Latinos favor President Obama to Mitt Romney. Voters in the gay and lesbian community favor Mr. Obama by the same margin. Women favor the president by 51 percent to 41 percent, according to an August NBC News/Wall Street Journal poll. And African-Americans? One poll suggested that Mr. Romney is being skunked: 94 percent to 0 percent.
Clearly, the GOP has a minority problem. But Republican strategists aren't just worried about November – they're worried about the Novembers after that.
If demographic trends continue to swell the country's minority population, and the GOP continues to struggle to grow its white, Protestant base, the Republican Party risks going the way of the Whigs it replaced in the 1850s. Already, some experts say, minorities are likely to swing this presidential election to Obama. And going forward, the arithmetic (as a certain former centrist president from red state Arkansas recently pronounced) says it all: This year, for the first time, births of nonwhites outnumbered births of whites in America, putting the United States on the road to becoming a majority-minority nation in three decades, the US Census Bureau reported. For the GOP, the rubber is finally hitting the road.
---