Election 2012: Can Democrats retake the House?
The Democrats 'drive for 25' is unrealistic as analysts predict Republicans will lose only 12 House seats in Election 2012. One GOP advantage: Conservative 'super PACs' will spend 'tens of millions.'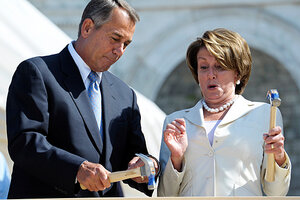 Cliff Owen/AP
Nancy Pelosi calls it the "drive for 25" – the number of seats House Democrats need to reclaim in November for Ms. Pelosi to retake the speaker's gavel.
Getting to 25 seats is no easy feat – and it's not one Democrats will reach this year, most analysts predict. Since 1994, when a Republican wave led by Newt Gingrich gave the GOP its first House majority since the 1950s, Democrats have only twice notched better than single-digit improvements: a gain of 24 seats in 2008 and 31 seats in 2006.
But Democrats are optimistic after widening their lead in "generic ballot" polls, which ask Americans which party they prefer. Democrats moved that barometer from a statistical deadlock in early August to a lead of five or six percentage points now.
"The reason for the momentum is very simple," says Steve Israel, chairman of the Democratic Congressional Campaign Committee, at a September gathering with reporters, "and that is because Paul Ryan has become a down-ballot disaster for Republicans across the country."
All along, Democrats had planned to hammer congressional Republicans over a plan by Mr. Ryan, chairman of the House Budget Committee, to recast Medicare with greater private-sector participation. When Ryan joined the presidential ticket, Democratic strategists could barely contain their joy. It gave Democrats a "blow horn," as Congressman Israel calls it, to blast their message of "Medicare versus millionaires" (that Democrats will protect the former, Republicans the latter).
---