Election 2012: In Senate, a mighty struggle to maintain status quo
The battle for the Senate now looks like a standoff with neither Republicans nor Democrats likely to win the 60 seats needed for political control. Will partisan gridlock change after Election 2012?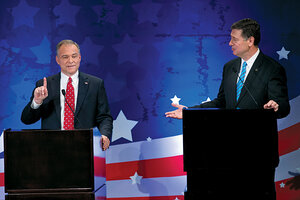 Evan Bucci/AP
This was supposed to be the year that Republicans stormed back into power in the US Senate, after enduring six years in the minority. But that scenario is looking less certain as Nov. 6 nears – thanks to a few missteps by GOP candidates, strong campaigns by some Democrats in red states, and presidential battleground states that lately are tilting toward President Obama in the polls.
As a result, political control of the Senate remains up for grabs – and the likelihood is rising that the winning party will hold only the narrowest of majorities. The upshot? Hope is fading that Election 2012 will yield a decisive mandate that can break the partisan gridlock that has immobilized Washington policymaking in recent years.
"When you have parties that are this polarized, unless one party really dominates the whole government – 60 votes in the Senate, a majority in the House, White House – then everything has to be a compromise," says political scientist David Karol at the University of Maryland. "And there's no basis for compromise."
Senate Democrats hold only a 53-to-47-seat majority, and this election they are defending nearly two dozen seats – twice as many as Republicans.
Presidential coattails in Virginia
Still, the electoral picture for the GOP has become less rosy as the campaign season unwinds, and not least among the reasons is the way the presidential contest has been playing out. Senate races in several 2012 battleground states are taking place in the shadow of the much larger and better-funded presidential operations – and a number of these states, polls show, currently lean toward Mr. Obama.
---