How the 2014 elections tip prospects for a 'grand bargain' on US deficits
Whoever wins the White House – President Obama or Mitt Romney – will need help from the other side of the aisle in the Senate to reach a deal on meaningful debt- and deficit-reduction. But key senators up for reelection in 2014 face wrenching tradeoffs.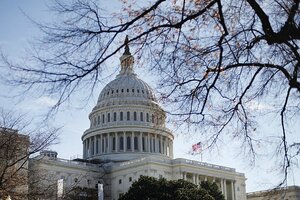 Pablo Martinez Monsivais/AP
If President Obama wins a second term, a top White House aim is to work with Congress to strike a "grand bargain," a massive debt-reduction deal that would shore up the government's finances for the next decade or more.
Members of Mitt Romney's presidential transition team, too, recently said a grand bargain would be a goal of their man's first term in office.
But any deal Mr. Obama or Mr. Romney strikes – if either can get one at all – may be shaped in important ways by ... you guessed it, lawmakers looking ahead to Election 2014. At least a dozen senators facing reelection that year may well size up their options this way: vote for legislation that contains some politically explosive provisions and face fury from certain constituents, or risk the nation's credit rating and continued economic malaise by punting pressing fiscal issues down the road once more.
At the center of any deal would be nine Democratic senators from red and purple states, and five Republicans in conservative states who might see a primary challenge if the debt-reduction package includes tax hikes.
How this group acts will do much to shape what either president can achieve. If Romney wins the White House, and even if Republicans also manage to seize control of the Senate, he would still have to attract enough Democratic senators to get the vote total for a GOP-shaped grand bargain to 60. The same holds for Obama, assuming a Republican-led House and a slim Democratic majority in the Senate.
Republicans face antitax backlash
Many independent economists and budget analysts insist that the US needs to reduce debt by $4 trillion over the next decade to stabilize its financial situation for the long term. Getting to that number would almost certainly require both parties to surrender cherished ground. For Republicans, that boils down to one word: taxes.
---