Could anger over superstorm Sandy response taint recovery, election?
The longer Sandy survivors suffer, the more harshly incumbent officials – from Gov. Chris Christie (R) to President Obama (D) – will be judged for their response, experts say.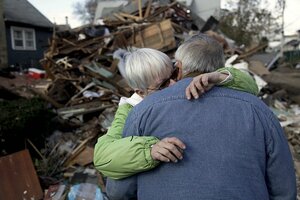 Seth Wenig/AP
As superstorm Sandy-related blackouts and gas shortages continue in the Northeast, mayors, governors, and the White House are scrambling to contain building anger and frustration that some experts suggest could spill over into next week's election.
In New York, Gov. Andrew Cuomo has worked with Washington to fast track gas shipments amid six-hour waits and fistfighting at gas pumps. In New Jersey, Gov. Chris Christie has ordered gas rationing in 12 hard-hit coastal counties – a dramatic move intended to cool anxious and angry residents.
Just moments after vowing that the New York Marathon would proceed, Mayor Michael Bloomberg canceled the event on Friday, saying the race would only sow disunity amid suffering on Staten Island, where the majority of 41 New York City casualties perished in hurricane Sandy's historic storm surge.
Certainly, the scramble for essentials in the densely populated hurricane strike zone is primarily to help cold and hungry residents, and to turn a rescue and response effort into a recovery and rebuilding mission by next week.
---