What Americans want from the next president
On the eve of a historically tight election, a writer drives through swing states and listens to the voices of America, hearing one overriding plea: 'Washington, stop bickering. Get something done!'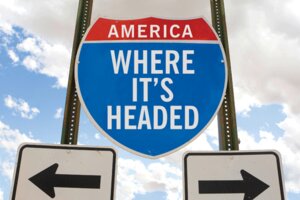 Photo illustration by John Kehe
The Sunday service wraps up and parishioners file into the fellowship hall at Trinity Episcopal Church, an imposing structure in this southern Wisconsin town built out of stones so thick that it seems they could only be moved by deity. Weak coffee burns on a warmer near a wall rack of communal mugs. Sweet goods pack a foldout table – cheese strudel, sticky buns, cinnamon-sugar donuts.
Paula DeRubeis and Anne Wanke stand nearby, chatting above the din of children. They share the same city and the same faith. But the same politics? Not so much.
Ms. DeRubeis is a staunch Democrat. She believes health care is an absolute right – that everyone in America should be covered, even if it means the federal government has to pay for it.
Ms. Wanke is an unswerving Republican, a fifth-generation Janesville resident who is an inveterate supporter of Rep. Paul Ryan, Mitt Romney's running mate, whose home sits a few blocks from the church. She wants more defense spending and a return to traditional family values. She believes liberals have infused the country with too much squishy political correctness.
Yet there is one sentiment that both seem to share: They are Americans first and Republicans or Democrats second.
"My best friend in the world is a super-left-wing liberal," says Wanke. "I mean, she's pro-abortion. I'm pro-life. She's very Democrat. But we've worked on projects for 30-something years in this town and love each other dearly. I wish our politicians did the same thing."
On the eve of an election that everyone says involves two "stark" choices for America, people across the country have a simple plea for Washington: Work together. Get along. Whoever wins the White House, reach out to those across the aisle and solve the nation's problems.
In a journey through the nation's major swing states, from the neon of Nevada, through the grain elevator towns of Iowa, to the soccer-van suburbs of Virginia, almost everyone I encountered wants politicians in the nation's capital to put their differences aside and get something done. They don't expect it to be easy. And they don't expect law-makers to abandon their principles entirely.
What they do want is an effort to make progress on the most pressing issues of the day, from jobs to immigration to debt, without using politics as a baton to bludgeon opponents. They yearn for lawmakers to act with the same kind of urgency and civility that they do when solving problems around their kitchen tables and in their school board conference rooms.
This is a government, after all, not a gladiators' arena for ideology and ego.
Or, as Sam Castrogiovanni, a mechanic in Las Vegas for 20 years who has the grease under his fingernails to prove it, notes: "I could care less if some politician has a 'D' or an 'R' behind their name. I just want some results."
This, at least, is the overriding theme I heard. On an early September morning, I loaded the bare essentials into my 1984 Volkswagen Vanagon, and left my home in Kalamazoo, Mich., for a trip through the undecided states of this supposedly polarized country.
The aim was simple: Spend time with average people, and ask them about what they want from their government, what their lives are like, and where they want the nation to go in the coming years.
And then listen.
I found people struggling mightily to pay their mortgages and utility bills who nonetheless hold out hope of better days ahead. I found people not so optimistic, their yearnings rusted by years of partisan bickering. For them, the American dream is just an idea existing somewhere out on the horizon – visible, perhaps, but unobtainable.
Make no mistake: I found many people who harbor sharply conflicting views – of a government that is too large, of one that isn't doing enough.
---