Paul Ryan returns to House: Is he ready for bigger role in GOP?
Rep. Paul Ryan of Wisconsin missed out on becoming vice president, but he retained his House seat. Now, he might be able to parlay his heightened exposure into greater clout.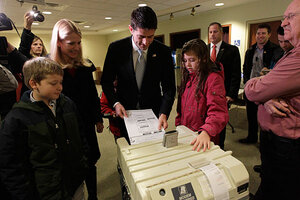 Mary Altaffer/AP
The defeat of Republican presidential nominee Mitt Romney does not necessarily mean a net loss for his vice presidential pick, Rep. Paul Ryan of Wisconsin.
Even though Congressman Ryan will not step into the No. 2 position at the White House, his three-month campaign on the national ticket gave him in spades what most public servants seeking higher office spend millions to buy: name recognition.
Now, having beaten Democratic challenger Rob Zerban Tuesday to retain his seat in Wisconsin's First Congressional District, Ryan could parlay his new recognition into a greater role within the GOP – unlike previous losing vice presidential contenders, such as Sarah Palin and John Edwards, whose political careers dried up swiftly.
Most obviously, Ryan will be essential to his party this month and next when Congress addresses the "fiscal cliff" – the spending cuts and tax increases that need a resolution by Jan. 1, but will likely get pushed off to the new year.
---