Marco Rubio headed to Iowa: Has 2016 already started?
Senator Marco Rubio will be in Iowa next week – birthplace of many a presidential campaign. After Mitt Romney's dismal showing among Latino voters, the ambitious young Cuban-American is only growing in importance to the Republican Party.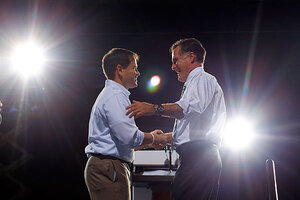 Brian Snyder/Reuters
If you're still feeling like little Abby in Colorado, who was driven to tears over "Bronco Bamma" and Mitt Romney and their seemingly endless campaign, read no further.
But the first sign of 2016 is already here: Rising Republican star Marco Rubio is going to Iowa.
On Nov. 17, the junior senator from Florida will headline a fundraiser for Gov. Terry Branstad (R), a spokesman for the governor said Thursday. And, as maybe even Abby knows, Iowa plays a crucial role in the Republican nominating process, first with its straw poll and then caucus.
Senator Rubio's political stock went way up Tuesday night after Mr. Romney failed to unseat President Obama – in no small part because of the Republican nominee's dismal performance with the fast-growing Latino vote (just 27 percent, worse even than GOP nominee John McCain in 2008) and other minority groups.
Rubio, who is Cuban-American, was on Romney's short list for running mate, and in all the post-election GOP hand-wringing, some Republican commentators have said Romney erred in not selecting Rubio for the ticket. Obama appears to have won Florida narrowly – the votes are still being counted – and it's possible that a more diverse GOP ticket could have helped Romney in Florida and in other Latino-rich states.
---