Obama talks 'fiscal cliff.' Why the urgency to reach deal sooner, not later?
Speed is of the essence in dealing with the fiscal cliff, some economists warn. Delaying until late this year – or worse, 2013 – would mean a bigger hit to the US economy, and even a recession.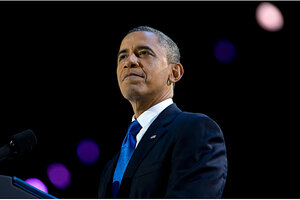 Carolyn Kaster/AP
Members of Congress have wasted no time laying down markers on how to deal with the so-called "fiscal cliff." About midday Friday, President Obama will take his turn. Why the urgency?
In part, it's obvious: The fiscal cliff is a large collection of tax cuts that expire on Dec. 31, coupled with automatic reductions in federal spending that are scheduled to take effect. If taxes go up and government suddenly curtails its spending by $109 billion, all set to happen just seven weeks from now, the US economy is expected to take a fall, whacked by a big hit to consumer spending activity.
Politics is another factor. Now that the election is over, lawmakers and the president are jockeying to set the agenda for the hard bargaining to come.
Those are the basic reasons. But here's an important piece of the economics behind the cliff: When a deal gets done may be just as important as what deal gets done.
If the dealmaking process takes too long, the impact of the fiscal cliff on the nation's economic growth will be much larger, economists at Bank of America Merrill Lynch wrote in an October analysis. "The decision process will matter as well as the outcome," they conclude.
The economists looked at various scenarios for how to deal with the cliff. Going across their grid were three options for what lawmakers might do – resulting in either a small, medium, or large cliff that the economy falls over. Reaching a deal that leaves only a "small" cliff could allow the economy to post decent growth. Doing less to address the cliff – allowing some tax hikes and spending cuts to occur – would weaken the pace of growth. (In all three scenarios, Congress would do something, not nothing, about the cliff.)
---