Immigration reform: Obama predicts action, calls to 'seize the moment'
In his first press conference since winning reelection, President Obama predicted quick action in Congress on comprehensive immigration reform after his inauguration in January.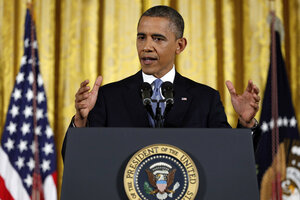 Carolyn Kaster/AP
President Obama, saying he was encouraged to see a growing "sense of empowerment and civic participation" among Latino voters in last week's election, predicted Wednesday that there would be action on immigration reform "very soon" after his second inauguration in January.
In his first press conference since winning reelection, Mr. Obama said White House staff are already discussing legislation with members of Congress. He said he expects a bill to be introduced in Congress and acted upon soon after Inauguration Day, which is Jan. 20, 2013.
"This has not historically been a partisan issue," Obama said, speaking in the East Room of the White House. "We've had President Bush, John McCain, and others who have supported comprehensive immigration reform in the past. So we need to seize the moment."
Prominent Latinos had criticized Obama during the campaign for failing to enact reform during his first term, and for boosting deportations. But Obama also won kudos for using executive action to put in a place a process that allows young undocumented immigrants – so-called "DREAMers" – to avoid deportation.
Obama won 71 percent of the Latino vote last week, and his Republican challenger Mitt Romney just 27 percent, triggering among many Republicans an instant rethink of their opposition to comprehensive reform.
The headline on an analysis by the Pew Hispanic Center, released Wednesday, demonstrates the political urgency of reaching out to Latinos: "An awakened giant: the Hispanic electorate is likely to double by 2030."
---