Political gridlock over 'fiscal cliff'? Not if CEOs can help it.
President Obama was set to meet with the leaders of a dozen major US corporations Wednesday, with the fiscal cliff a central topic. Businesses have rallied in trying to nudge officials toward a deal.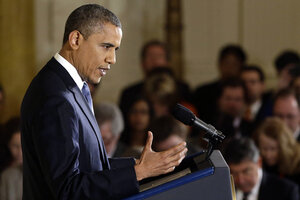 Charles Dharapak/AP
The US business community is rallying with unusual zeal behind a simple but urgent message: It's time for politicians to fix the nation's budget policy.
The urgency comes from the deadline known as the "fiscal cliff," the tax hikes and federal spending cuts that are scheduled to occur on Jan. 1, perhaps tipping America into recession. Recessions, of course, aren't good for business.
But corporate leaders aren't just promoting short-term actions, such as postponing tax hikes. They're also calling for longer-term reforms to reduce future deficits. In this, too, a self-serving rationale can be seen.
Many chief executive officers worry that future US prosperity – and their own profits – could be in peril if government policies continue to drift toward an ever-rising national debt.
"Our national debt increases about $3 million every minute," Scott Davis, the CEO of United Parcel Service (UPS), said in a recent speech. "Our leadership needs to ... adapt to the economic realities, take a disciplined approach. And most importantly, act."
Concern within the business community about America's fiscal health is nothing new. But today's high economic stakes have prompted CEOs to speak with a rare level of urgency and coordination. That could make their message an influential one, at a time when Democrats and Republicans have sharp differences on the way forward.
President Obama was poised Wednesday to meet with the leaders of a dozen major US corporations, with the fiscal cliff a central topic.
---