Why Nancy Pelosi wants to stay on as House minority leader
Rep. Nancy Pelosi is set to preside over the most diverse House Democratic Caucus in history, with a majority being women and minorities. But her continuation was the subject of GOP scrutiny.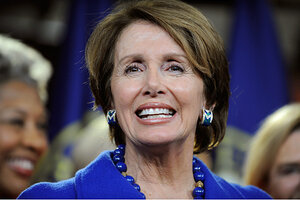 Mary F. Calvert/Reuters
Though denied the speaker's gavel for another term, Rep. Nancy Pelosi (D) said she simply couldn't leave her post as House minority leader in the coming congressional term because she's got plenty left to do – and plenty to fight for in a session that could include weighty debates over tax and entitlement reform.
"Being actively involved in politics at this level is really insatiable," Representative Pelosi said at a Wednesday press conference, flanked by her female Democratic colleagues. "There aren't enough hours in the day for me. There's so much more I want to do."
Among the things on Congress's agenda in 2013 will probably be dealing with America's long-term debt and deficits, a discussion that is likely to involve weighing changes to core Democratic priorities like Medicare. Keeping leader Pelosi – a top champion of President Obama's health-care law – in the thick of those fights was a key issue for the House Democratic Caucus.
"You've done all the heavy lifting – now sit down at the table," Pelosi said her colleagues told her as many nodded along at the press conference. "For some people in the general public, the thought of four men at that table was not an appealing sight, however excellent they may be."
Pelosi, who became the first female speaker of the House after Democrats claimed the majority in the 2006 elections, said she took strength from Democrats' showing in last week's elections, highlighting two issues in particular – Mr. Obama's victory and the historic diversity of the Democratic caucus.
---