Libya hearings: Will political vitriol squelch effort to improve security?
One main purpose for congressional hearings into the terrorist attack in Benghazi, Libya, is to find out how to improve security for US diplomats. But political point-scoring could get in the way.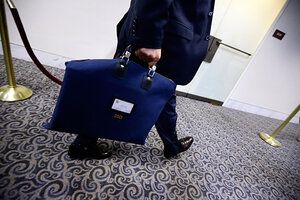 Alex Brandon/AP
Congressional leaders on both sides of the aisle say they want to get to the bottom of the Sept. 11 terrorist attack in Benghazi, Libya, so that lessons can be learned – and performance improved – concerning the mitigation of risks involved in carrying out diplomacy in dangerous places.
It's just not clear that the intensely politically charged atmosphere surrounding the investigations into the assault that killed four Americans, including the US ambassador to Libya, will allow that to happen.
The House Foreign Affairs Committee held a hearing Thursday that sought to begin to understand what happened in Benghazi in order to avoid similar tragedies in the future. But the hearing, only one of several congressional meetings this week on Benghazi to be held in public, was marked by the same political attacks and recriminations that dominated the Benghazi debate prior to the Nov. 6 election.
Republicans on the panel railed against President Obama and Secretary of State Hillary Rodham Clinton for "lying" to the American people about what happened in Benghazi, while Democrats accused their Republican colleagues of "hypocrisy" for blasting the State Department over lax security provisions after having cut the department's security budget requests.
---