No sour words after 'constructive' White House meeting on 'fiscal cliff'
'Constructive' is how top lawmakers described Friday's bipartisan meeting on ways to avoid the fiscal cliff. GOP leaders said they put new revenues on the table, with conditions. Democrat Harry Reid spoke of each side's need to 'give up' some things.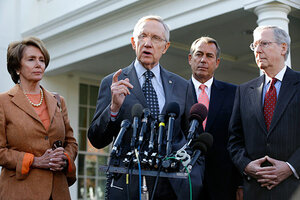 Jacquelyn Martin/AP
President Obama and congressional leaders are feeling "constructive" about their bipartisan talks to avoid the "fiscal cliff."
A one-hour meeting at the White House Friday morning featuring House and Senate leaders – Speaker John Boehner (R) and minority leader Nancy Pelosi (D) alongside Senate majority leader Harry Reid (D) and minority leader Mitch McConnell (R) – apparently produced good feeling, as each lawmaker mentioned in post-meeting statements how "constructive" the meeting was. They promised to continue work to find an alternative to the fiscal cliff's automatic tax hikes and steep spending cuts even as Mr. Obama heads to Asia and Congress heads home for Thanksgiving.
Both Republican leaders signaled willingness to do what had been a show-stopper in the past: accept higher government tax revenues in exchange for spending cuts that include changes to entitlement programs like Medicare.
"I outlined a framework that deals with reforming our tax code and reforming our spending, and I believe that the framework that I've outlined in our meeting today is consistent with the president's call for a fair and balanced approach," said Speaker Boehner. "To show our seriousness, we've put revenue on the table as long as it's accompanied by significant spending cuts."
"We are prepared to put revenue on the table provided we fix the real problem," added Senator McConnell soon thereafter. "Most of my members I think without exception believe that we're in the dilemma we're in not because we taxed too little but because we spent too much."
---