Obama-Boehner 'fiscal cliff' handshake: Could it actually hold?
After a friendly meeting on the 'fiscal cliff', President Obama shook hands with House Speaker John Boehner. Maybe it's the holiday spirit, but there's cautious optimism that bipartisanship might not be dead in Washington after all.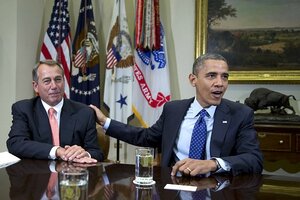 Carolyn Kaster/AP
Fresh from reelection, President Obama met Friday with leaders of an unpopular Congress, including House Speaker John Boehner, to discuss how to avoid leaving the most powerful country in the world hanging like Wile E. Coyote off a "fiscal cliff."
It was the first such powwow in six months. And as it broke up and members headed out of town for Thanksgiving, Mr. Obama and Mr. Boehner reached across the table for a warm handshake – a brief grip that seemed to encapsulate an electorate's cautious hope that a polarized government could strike a deal that raises revenues while downsizing entitlement programs and other spending that have begun to threaten the nation's solvency.
So, will – can – that "fiscal cliff" handshake hold?
To be sure, the reelection of President Obama sent a powerful message to Republicans, who for the first time since a tea party wave in 2010 yanked the House into a staunch antitax position felt they had room to take a different tack from the corrosive 2011 debt limit standoff that created a set of automatic spending cuts to take effect Jan 1. Along with the looming end to the Bush tax cuts, those spending cuts comprise the "fiscal cliff" that some fear could plunge the country into recession, or worse.
On the other hand, the election gave Democrats more a deadline than a mandate, a sort of affirmation that Obama's legacy could well ride on his handling of America's rough-idling economy.
RECOMMENDED: Could 'fiscal cliff' push US into recession? Four questions answered.
A lot is at stake over the next few days as staffers begin to work out the details of the outline that Congressional leaders said they agreed to.
---