Illegal immigration: Who's applying for Obama's 'DREAM Act' deferrals?
New data show who is applying for the two-year deportation deferrals established by President Obama and modeled to a degree on the DREAM Act. It's a glimpse at one potential way to reform illegal immigration.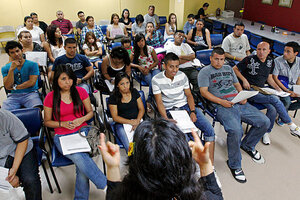 Reed Saxon/AP/File
About one-quarter of the young undocumented immigrants eligible for the two-year deportation deferral established by President Obama have applied since the program started Aug. 15
Statistics released last week by the US Citizenship and Immigration Services (USCIS) gave the fullest portrait yet of who is applying, and they suggested that enthusiasm for the program was not dampened by the uncertainty caused by presidential election.
Republican nominee Mitt Romney had waffled on how he would handle the program, leading some immigration advocates to wonder if applicants might be wary of starting the process until the election was decided. But the data show the election had little effect on the process.
After the first month of the program, 82,000 applications had been filed with USCIS. By Nov. 15 – the program's three-month mark – 300,000 applications had been filed, marking steady growth. The Migration Policy Institute estimates that 1.2 million undocumented immigrants nationwide are eligible for the program, called Deferred Action for Childhood Arrivals (DACA).
"I am elated that so many applications are coming in and now that the fear of Romney winning is out of the way," said Rep. Luis Gutierrez (D) of Illinois, a leading immigration-reform advocate who pushed the Obama administration to set up DACA, in a statement. "I think a half-million applications by New Year's should be our goal."
---