'Fiscal cliff': Obama, Republicans revert to campaign mode
President Obama met with small-business owners Tuesday, meets with middle-class Americans and business leaders Wednesday. Republicans, too, are orchestrating meetings, as both sides vie to win public's support for their approach to resolving the fiscal cliff crisis.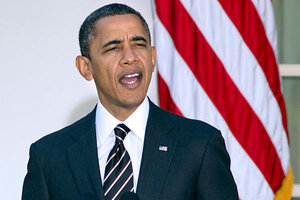 J. Scott Applewhite/AP/File
Three weeks after winning reelection, President Obama is returning to the campaign trail. But instead of stumping for himself, he's pushing for tax hikes on the wealthy, in the name of deficit reduction.
The president's trip Friday to a toy factory in suburban Philadelphia will cap a week of outreach to various constituencies on issues around the "fiscal cliff" –the broad tax increases and spending cuts that kick in with the new year if Congress doesn't act.
On Tuesday, Mr. Obama met at the White House with small-business owners from across the country, and his economists released a report saying a tax increase on the middle class would harm small businesses. On Wednesday, the president hosts two events – one with middle-class Americans, another with business leaders. The point of all three meetings is to highlight how these groups would be affected by an expiration of the Bush-era tax cuts.
Congressional Republicans have decided they can play the game, too. On Wednesday, House Speaker John Boehner and other Republican congressional leaders meet with business leaders. Next week, House majority whip Kevin McCarthy will host a meeting of small-business owners at the Capitol, his office announced.
---