Obamacare countdown: States all over the map on insurance markets
States have until Dec. 14 to decide whether they will implement their own insurance exchanges under 'Obamacare' or have the federal government do it. Many governors have already refused to set up exchanges.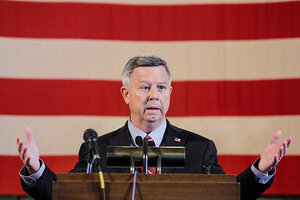 Nati Harnik/AP/File
The Affordable Care Act may be the law of the land, settled by the recent presidential election. But the 50 states have a big role to play, too, and many are scrambling to decide what that role will be.
Some Republican-led states are still fighting the whole notion of Obamacare. Specifically, they're refusing to cooperate with Washington on setting up new health insurance markets – also called exchanges – where individuals and small businesses can shop for private health-care coverage.
According to the latest tally, 16 states and the District of Columbia have decided to set up their own insurance exchanges; another five states have decided to work with the federal government to do so; and 19 states have said they will default to the only other available position – leaving it up to Washington to set up and administer their insurance markets. The 10 remaining states have yet to announce their decisions.
Not surprisingly, most of the states setting up their own insurance exchanges – New York, California, and Maryland among them – are run by Democrats. But some Republican-led states are, too, including Mississippi, Nevada, Iowa, and New Mexico.
---