Obamacare countdown: What is slated to happen over next year?
The health-care reform law, aka Obamacare, is poised to enter a crucial 12 months that includes setting up state exchanges, levying taxes on the wealthy, and preparing for the individual mandate.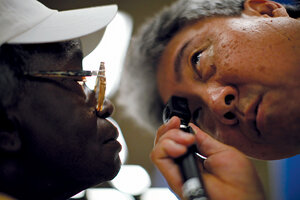 Lucy Nicholson/Reuters
Obamacare lives. That may be one of the most sweeping consequences of the 2012 presidential election. By winning a second term, President Obama has essentially ended Republican hopes of rolling back his signature Affordable Care Act before it takes full effect. Even adamant opponents of the health-care reform law in the GOP-controlled House recognize that it's pointless to continue pushing repeal legislation, at least for now.
"Obamacare is the law of the land," said House Speaker John Boehner (R) of Ohio on Nov. 8.
With its immediate future secure, the health-care law now enters a crucial 12 months. Federal and state officials must race to prepare for Jan. 1, 2014, which is opening day for some of the Affordable Care Act's most far-reaching provisions. As Health and Human Services Secretary Kathleen Sebelius noted in congressional testimony this past spring, "2013 will be a critical year for building the infrastructure and business operations" needed to expand health insurance coverage to millions of low-income Americans.
It's possible that some aspects of Obamacare (as many people, including the president, now call it) could be scaled back in budget negotiations intended to avert the "fiscal cliff" crisis. But here's a primer on top upcoming milestones as the law currently stands.
State insurance stores. By 2014, each state (and the District of Columbia) is supposed to have a health insurance exchange up and running. Basically, these will be health insurance stores – markets intended to provide a more organized and competitive way for people to buy a product that's often complicated and confusing.
---