Michigan to join 'right to work' states. A blow to unions?
Michigan is set to become the 24th state with a 'right to work' law prohibiting unions from collecting fees from nonunion workers. Data on such laws' economic impact are mixed.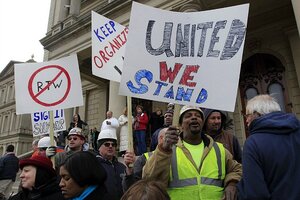 Carlos Osorio/AP
Michigan is on track to become the second rust belt state to adopt a "right to work" law, raising further questions about the weakening of American labor unions.
Both Republican-dominated houses of the Michigan Legislature this week passed a bill that prohibits unions from collecting fees from nonunion workers, and Gov. Rick Snyder (R) says he'll fast-track it into law.
Unlike Wisconsin Gov. Scott Walker (R), who picked a fight with public-employee unions over collective bargaining (and had to fight off a recall effort because of it), Governor Snyder had not had major run-ins with union power.
But in the end, he saw the law as a matter of "workplace fairness and equity" – a phrase he prefers to "right to work." More importantly, he emphasized in a YouTube video he posted Friday, "we're losing a major competitive edge" – especially to neighboring Indiana, where Gov. Mitch Daniels (R) signed that state's right-to-work law in February, making it the first Rust Belt state in the Midwest or the East to do so.
"Indiana has become a right-to-work state, and I've looked at their pipeline," said Snyder. "They significantly increased the number of businesses looking to come to Indiana and grow in Indiana due to this legislation."
Michigan has added 140,000 new jobs in the past two years, and the state is projected to add another 110,000 new jobs in the next two years. But that's far from enough to make up for the 750,000 jobs lost between 2000 and 2010.
---