More Republicans agree to higher tax rates for the wealthy
Recognizing that President Obama has the upper hand, more Republicans say they're now willing to consider higher tax rates for the wealthy. On Sunday, it was Sen. Bob Corker (R) of Tennessee.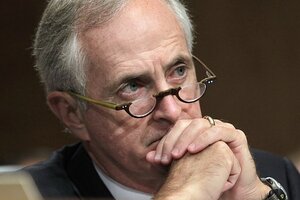 J. Scott Applewhite/AP
One by one, Republicans seem to be toppling in the direction of President Obama's insistence that wealthy Americans pay higher taxes.
On Sunday, it was Sen. Bob Corker (R) of Tennessee, who told "Fox News Sunday" that Republicans likely would have to give in on Mr. Obama's demand that the Bush-era tax cuts for those making more than $250,000 be allowed to expire at the end of the year. The president, he acknowledged, "has the upper hand on taxes."
"There is a growing group of folks who are looking at this and realizing we don't have a lot of cards as it relates to the tax issue before year's end," Senator Corker said. "So a lot of people are putting forth a theory, and I think it has merit, where you go ahead and give the president the rate increase on the top 2 percent, and all of a sudden the shift goes back to entitlements."
In other words, agreeing to let tax rates go back up a couple of percentage points for the rich – but not for working- and middle-class taxpayers, which has been Obama's position since the beginning of the presidential campaign – gives Republicans leverage in demanding spending cuts. Specifically, that means tightening up on the costs of Social Security and Medicare, something most Democrats oppose.
---