Americans' 'fiscal cliff' fix? Cut government spending – but not Medicare.
A new Monitor/TIPP poll finds Americans favor cutting government spending to solve the fiscal cliff, but few want to cut entitlements such as Medicare, which make up most of the budget.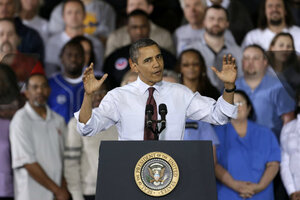 Paul Sancya/AP
As politicians bargain over how to deal with the nation's "fiscal cliff," a new poll hints at why the talks are so difficult: The American public is wary of both broad tax hikes and spending cuts to entitlement programs such as Medicare, which account for about two-thirds of all federal spending.
In fact, "cutting Medicare spending" ranked last with the public among a dozen specific fiscal proposals, in the Christian Science Monitor/TIPP poll, conducted over the past week.
At the same time, Americans are concerned about the size of budget deficits and about the rising national debt. The poll results also suggest some openness to a possible bargain between Republican and Democratic leaders, which would would involve both spending cuts and new tax revenue.
Specifically, the public appears open to raising taxes on wealthier households. But in asking for a top choice for reducing the federal debt problem, the poll found 65 percent preferred "cutting general government spending." Some 16 percent said that "increasing taxes" was their top choice. And only 12 percent chose a third option, "reforming entitlement programs such as Medicare and Social Security," suggesting that building public support on that front could require both time and bipartisan statesmanship.
"Consensus building is very important," says Raghavan Mayur, president of TechnoMetrica Market Intelligence, which conducted the TIPP poll for the Monitor and Investors Business Daily. "Americans are not in any mood for cutting entitlements, whether it is Social Security or Medicare."
The phrase "fiscal cliff" refers to some $600 billion in spending cuts and tax hikes that are currently scheduled to take effect at the start of 2013, unless Congress takes action. It's a problem of lawmakers' own making. Unable to reach a fiscal deal in 2011, the two parties in Congress gave themselves an incentive to come to an agreement by setting a deadline when automatic spending cuts would kick in alongside the expiration of the Bush tax cuts.
---