Should Michigan GOP brace for reprisal over 'right to work' law?
When Republicans in Wisconsin and Ohio took on Big Labor, unions fought back ferociously. But Michigan's GOP lawmakers, calculating the political risks of pushing a 'right to work' law, may have looked to Indiana as a better precedent.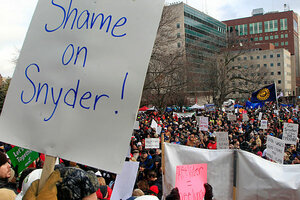 Carlos Osorio/AP
Now that GOP-led Michigan lawmakers have approved a so-called right-to-work law, defying hot-under-the-collar union members and most Democrats, the next question becomes this: Should they be worried about reprisal?
There's certainly precedent for concern. In two other Midwestern states that took on Big Labor, the unions fought back, hard. Ohio voters ultimately undid a law that limited unions' collective bargaining powers, and Wisconsin Gov. Scott Walker and several GOP lawmakers faced bruising recall elections this year (though the governor ultimately prevailed) after that state clipped union clout in bargaining.
Michigan-based union leaders, moreover, are already talking tough. "Let me tell the governor and all those elected officials who vote for this shameful, divisive bill – there will be repercussions," Teamsters General President Jim Hoffa said in a statement Tuesday just before the Michigan bills were finalized. "Some day soon, they will face the voters of Michigan and they will have to explain why they sided with the billionaires to back this destructive legislation."
The legislation, which Gov. Rick Snyder (R) signed late Tuesday, bars unions from forcing workers to join their ranks or to pay monthly dues to retain their jobs, making Michigan the 24th state to adopt what backers call a "right-to-work" law. The Republicans' move to push such a law appeared to catch labor leaders off guard, as Governor Snyder had previously said he was not inclined to push for legislation that unions perceive as hostile, especially in a state where the International Brotherhood of Teamsters and United Auto Workers have deep roots.
---