Who is Tim Scott? Black senator-to-be should make tea party proud.
Rep. Tim Scott has been appointed to the seat held by retiring Sen. Jim DeMint. As a Republican African-American, Scott is a historic choice – and one likely to please the tea party.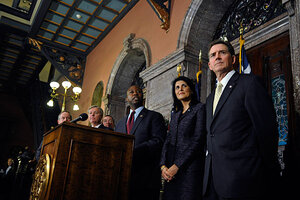 Rainier Ehrhardt/AP
Rep. Tim Scott (R) of South Carolina continued his rapid political ascent Monday, with South Carolina Gov. Nikki Haley elevating the first-term congressman to a seat in the US Senate.
In taking the post, Representative Scott is set to become the first African-American Republican to serve in the US Senate since 1978 – and only the third since 1881.
He will have big shoes to fill within the conservative movement. Scott shared the stage at the state capitol in Charleston Monday with the man he will replace in January, Sen. Jim DeMint (R), who is leaving the Senate to head the Heritage Foundation, a conservative think tank. In his seven years in the Senate, Mr. DeMint arguably did more than any other elected official to establish the tea party on Capitol Hill by stumping (and fundraising) for deeply conservative politicians across the country.
Conservatives are optimistic that Scott will continue to carry that standard.
"Congressman Scott is a fighter for limited government and pro-growth policies in Washington, and we can't wait to see him in the Senate," said Chris Chocola, president of the fiscally conservative Club for Growth, a group that supported Scott from his GOP primary days.
---