NRA's Sandy Hook press conference: What can it say?
On Friday, the National Rifle Association will hold a rare news conference – a sign that the Sandy Hook massacre has put the gun-rights organization in a tough position.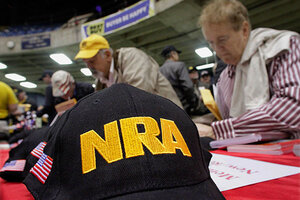 Seth Perlman/AP/File
After nearly a week of laying low since the Dec. 14 elementary school massacre in Newtown, Conn., the National Rifle Association holds a press conference Friday – a rare event for the largest and wealthiest of American gun-rights organizations.
No one expects the NRA to give ground on any gun-control measures under discussion, such as a new federal ban on certain assault weapons or on high-capacity ammunition magazines. But in billing the 10:45 a.m. Eastern time news conference as "major" and saying that the organization is "prepared to offer meaningful contributions" to help prevent another Newtown, the NRA has raised the stakes for its role in the public debate.
"They have upped the ante by doing it the way they have," says Richard Feldman, president of the Independent Firearm Owners Association and a former NRA official. "They've built the news conference into a pretty big deal."
Unlike with mass shootings of the recent past – Tucson, Ariz.; Aurora, Colo.; the Sikh temple in Wisconsin – most of the 26 people killed in last Friday's rampage were young children. Public outrage and anguish are high. In contrast to his past responses, President Obama has pledged to use "whatever power his office holds" to prevent more mass shootings and has acted on that pledge.
---