Will GOP's 'Plan B' push Obama closer to 'fiscal cliff' deal?
House Republican leaders hope to pass their own 'fiscal cliff' bill Thursday. But Obama and Senate Democrats are solidly against the plan, which could leave the sides no nearer a deal.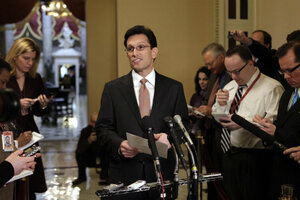 Yuri Gripas/Reuters
With less than a week to go before Christmas, talks between President Obama and House Speaker John Boehner (R) of Ohio show no public signs of progress as the House moves toward its own response to the so-called "fiscal cliff" on Thursday evening.
Part 1 of that response is a bill known called "Plan B" by Speaker Boehner, a measure that would permanently extend income tax rates for American households making under $1 million per year, alongside permanent fixes for capital gains, dividends, the estate tax, and the Alternative Minimum Tax (AMT), among other measures.
That's been coupled with another vote on a fix for the budget-cutting sequester that's been salted with other Republican priorities, including repealing parts of Mr. Obama's signature health-care law and financial regulatory reform scheme. The House passed the measure that would replace the sequester, some $109 billion in automatic spending reductions scheduled to begin Jan. 1, in the spring. But the same idea has been added to the mix on Thursday in order to provide cover for conservatives who noted that the first part of Plan B involved no spending cuts.
This bill, which Senate Democrats promise will be dead on arrival and which the White House has promised to veto, is seen by Republicans as a way to pressure Obama at the negotiating table to give more on spending cuts.
---