Is the NRA push for guns in schools crazy? It depends on where you live.
Reaction to the NRA's controversial proposal to have armed guards in all schools illustrates the regional divide over guns – how and even whether to control the nation's private arsenal.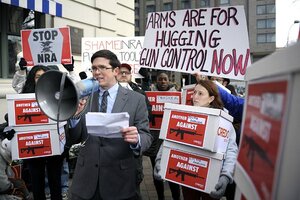 Cliff Owen/AP
Breaking its silence in the wake of the Sandy Hook school massacre, the National Rifle Association has added to the emotional national debate on gun control by calling for armed guards at schools.
The announcement of a taskforce, led by former US Rep. Asa Hutchinson, to create a national "school shield" model came after NRA chief lobbyist Wayne LaPierre blamed violent popular culture and "gun free zones" for informing "every insane killer in America that schools are the safest places to inflict maximum mayhem with minimum risk."
The press conference, which was punctuated by protesters shouting, "The NRA has blood on its hands," capped a week of roiling debate that made it clear that the country is far from united on how to stop gunmen from breaching school defenses and attacking children.
Recommended: Second Amendment Quiz
Whether epitomizing a red-blue or rural-urban divide, the NRA's response stood in stark philosophical contrast to calls for assault weapons bans and other restrictions coming from many gun control advocates, including President Obama. This week, Mr. Obama announced a White House anti-gun violence task force, led by Vice President Joe Biden, which met for the first time on Thursday as it aims to return recommendations within 30 days.
---