'Fiscal cliff': Is Washington missing its chance to 'go big'?
President Obama and Congress are preparing to have another go at a deal on the fiscal cliff, but more and more it's looking like an opportunity for something grand to be wasted.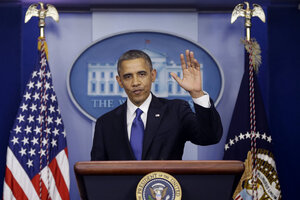 Charles Dharapak/AP
The "fiscal cliff" was supposed to offer Washington the chance to "go big," to take on the nation's federal debt and deficit situation in a serious way.
Instead, Congress and President Obama look as if they're going to go small – and that's if they get anything done at all before 2013.
The current negotiations are a "horrible waste" of a great opportunity to fix America's fiscal trajectory, says Rep. Steve LaTourette (R) of Ohio, who is retiring.
"The opportunity is there," he says.
But Washington hasn't seized it.
First, there's the immediate state of negotiations on the fiscal cliff that make any serious deal between Wednesday and the new year a heavy lift. With only five days left before more than $600 billion in higher taxes and lower government spending are scheduled to hit the economy, Washington's power players aren't even in the same place, much less in the negotiating game.
House Speaker John Boehner (R) of Ohio sent his troops home indefinitely after his fallback fiscal cliff legislation – a tactical maneuver stemming from his negotiations with the White House – couldn't muster enough support from House conservatives last week.
---