Chuck Hagel: why his candidacy for Defense post is losing altitude
Critics of Chuck Hagel's potential candidacy have focused on remarks he made years ago about Israel, Iran, and Hamas. Some even called him anti-Semitic, a charge branded as outrageous, even by other critics.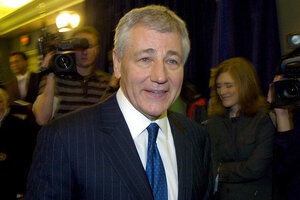 Dave Kaup/Reuters/File
President Obama's potential nomination of Chuck Hagel, a former two-term Republican senator from Nebraska, to be his next secretary of Defense is now being dubbed "flailing" before it was even confirmed.
Much of the discussion, and the principal source of Mr. Hagel's vulnerability, revolves around remarks he made, some dating back several years, on US policy toward Israel, Iran, and Hamas. Some critics are wondering aloud whether he is sufficiently supportive of Israel, while others are even going so far as to suggest he is anti-Semitic, a charge that Hagel's defenders, and even some of his detractors, have branded as outrageous.
At issue in particular is Hagel's use, in a 2006 interview, of the descriptor "Jewish lobby" to refer to the pro-Israel lobby in Washington, which includes US Christians, too, and which Hagel accused of "intimidating a lot of people."
These comments, along with Hagel's support of dialogue with Iran and Hamas, both sworn enemies of Israel, prompted an unnamed Republican Senate aid, quoted in the conservative Weekly Standard, to promise of the potential nominee, "Send us Hagel and we will make sure every American knows he is an anti-Semite."
---