Obama keeps up the pressure as Senators Reid and McConnell negotiate 'fiscal cliff'
President Obama appeared on 'Meet the Press' Sunday as Senators Harry Reid and Mitch McConnell tried to work out a last-minute deal to avoid plunging over the 'fiscal cliff.'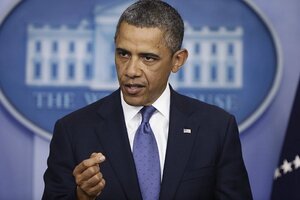 Charles Dharapak/AP
The calendar says two days until we all fall off the fiscal cliff, but it's really down to a few hours.
Where things stand now: Senate majority leader Harry Reid (D) of Nevada and his Republican counterpart, minority leader Mitch McConnell of Kentucky, are huddled with staff, trying to work out a deal to prevent that $600 billion mix of tax hikes and spending cuts set to kick in on New Year's Day Tuesday.
Whatever Senators Reid and McConnell are able to negotiate presumably will make it through the Senate, where Democrats are in charge and where most Republicans are less vulnerable than House members to a challenge from the right in the 2014 mid-term elections.
More problematic is the GOP-controlled House, where a group of tea party Republicans stymied and embarrassed Speaker John Boehner by preventing his "Plan B" attempt to reach a deal with the White House.
2012 enters the record books. Were you paying attention? A news quiz.
Still, there are ways to get to "yes" – which include postponing some sticky issues.
As the Monitor's Gail Russell Chaddock reported Saturday:
---