'Fiscal cliff': How far apart are the sides now on tax cut deal?
Both sides have appeared to come closer together on Bush-era tax cuts, but many other issues remain, and Senate majority leader Harry Reid still isn't saying much publicly.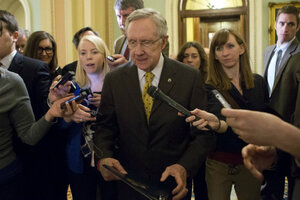 J. Scott Applewhite/AP
With income tax rates set to increase at midnight New Year's Eve, the jockeying on Capitol Hill is intense.
Negotiations broke down for hours on Sunday, after Democrats rejected a GOP proposal (later retracted) to trim Social Security payments, known as "chained CPI," but did not make a counteroffer. Senate Republican leader Mitch McConnell of Kentucky called on Vice President Joe Biden to help break the impasse.
By late Sunday, both sides appeared to have come closer together on at least one deeply divisive issue: extending the Bush-era tax cuts on all but the highest incomes.
Senate Republicans, who have opposed tax hikes, proposed preserving existing rates for a family income level of $550,000 and below, according to aides close to the talks. Senate Democrats countered with $450,000. President Obama proposes extending tax breaks only for incomes below $250,000.
All eyes were on Senate majority leader Harry Reid (D) of Nevada Monday morning, when he spoke from the Senate floor on the "fiscal cliff" talks. But he didn't tip his hand, saying "there are still some issues that need to be resolved before we can bring legislation to the floor."
Indeed, the fiscal cliff is about much more than finding a compromise on the Bush tax cuts. Just addressing taxes for the middle class – and little else – could actually take attempts to rein in federal deficits in the wrong direction. "If at the end of the day we end up with this deficit discussion adding to the deficit, many people will question our sanity," said Sen. Richard Durbin (D) of Illinois, the Senate majority whip.
---