That didn't take long: AIG decides not to sue US over bailout terms
AIG, which said it had been legally bound to consider the interests of shareholders, appears to have concluded that damage to its public image would outweigh any benefits of joining the suit.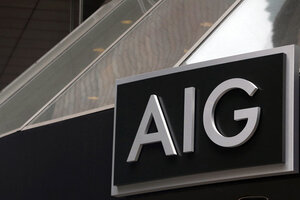 Brendan McDermid/Reuters
Maybe the idea of suing the US government over the terms of a gargantuan bailout isn't such a winning move for AIG.
That's what the directors of American International Group concluded in a Wednesday meeting. The insurance company's board was reviewing legal action by another firm, Starr International, calling on AIG to join a lawsuit arguing that the terms of the 2008 rescue trampled on shareholder rights.
Starr is run by former AIG chief Maurice "Hank" Greenberg, and had been a major shareholder of AIG.
"The AIG Board has determined to refuse Starr's demand in its entirety, and will neither pursue these claims itself nor permit Starr to pursue them in AIG's name," AIG said in a statement released late in the day.
The company said it had been legally bound to weigh the best interests of shareholders. By inference, it concluded that the damage to its public image – hinted at in a firestorm of public criticism this week over the possible legal action – outweighed any potential benefits of joining the lawsuit.
But the uproar over the proposed lawsuit has served up a reminder that goes beyond the details of AIG: Debate over the role government should play in the nation's financial system during times of panic is far from over.
AIG's rescue defined a pivotal point in the financial crisis.
The investment bank Lehman Brothers had just collapsed, and there was uncertainty about whether AIG and then others would fail next. The Federal Reserve promptly moved to the aid of AIG, extending an $85 billion loan in exchange for 80 percent ownership in the troubled firm.
---