Gun control 'dream team' is born: Can it rival NRA for political firepower?
Michael Bloomberg and Gabrielle Giffords may help to put a new face on the gun-control movement – and try to give the NRA a run for its money when it comes to influencing gun policy. But the movement has a fractious history to overcome.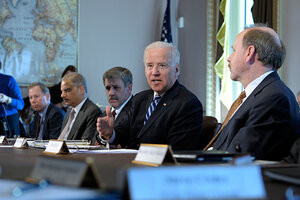 Susan Walsh/AP
A month after the Sandy Hook Elementary School massacre, a once-moribund gun-control movement this week unleashed a broad, coordinated campaign aimed at curbing America's fascination with high-powered firearms by, in part, blunting the tip of the gun lobby's spear: the National Rifle Association (NRA).
Heeding President Obama's call for swift action after 20-year-old Adam Lanza used an assault-style rifle to kill 20 grade-school children and six staffers in Connecticut, a sort of dream team of gun-control advocates has in effect launched a multipronged attack that could change national sentiment about gun control, in part by catching the NRA at a time when its political influence is low, say political scientists and gun-policy experts.
In Washington, Vice President Joe Biden is meeting this week with various constituencies, including the NRA and Hollywood producers, as part of a presidential task force, even as New York Mayor Michael Bloomberg's Mayors Against Illegal Guns went public with a new national ad featuring the mother of a child slain during the 2010 attempted assassination of former US Rep. Gabrielle Giffords (D) of Arizona.
---