Obama warns of 'disaster' if House GOP doesn't raise debt ceiling
In the final press conference of his first term, President Obama called on House Republicans to pay the bills Congress has already racked up. He also reiterated that he will not negotiate over the debt ceiling.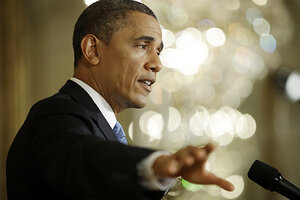 Pablo Martinez Monsivais/AP
President Obama warned congressional Republicans Monday that a failure to raise the federal debt ceiling in the next several weeks would spell "disaster" for the US and global economies. And he reiterated his position that he will not negotiate over the debt ceiling.
"These are bills that have already been racked up, and we need to pay them," Mr. Obama said in the last presidential press conference of his first term. "So while I'm willing to compromise and find common ground over how to reduce our deficits, America cannot afford another debate with this Congress about whether or not they should pay the bills they've already racked up."
Obama also bemoaned the pattern of the past two years, in which the government lurches "from crisis to crisis."
Without congressional action, the federal government will reach the limit of its borrowing authority as soon as Feb. 15. If that happens, Obama warned, a host of government functions will be suspended, including the sending of Social Security payments, veterans' benefits, and paychecks to federal workers, such as US troops, food inspectors, and air-traffic controllers.
"Investors around the world will ask if the United States of America is in fact a safe bet," Obama said, speaking in the East Room of the White House. "Markets could go haywire."
Obama was, in effect, laying the political groundwork to blame congressional Republicans if the US again flirts with defaulting on its debt, as it did in the summer of 2011. That episode led to a downgrading of America's AAA credit rating and, the president said Monday, hurt job creation.
Obama also suggested repeatedly that his recent reelection represented a vote for his position on deficit reduction.
---