'Gun Appreciation Day': who might show up, and why that matters
A Gun Appreciation Day is scheduled for Saturday. The goal is to rally support against anti-gun legislation and to show America that gun owners aren't 'radical crazies.'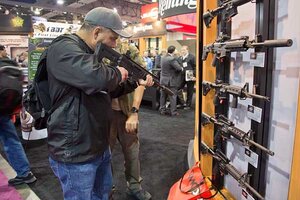 Julie Jacobson/AP
Larry Ward acknowledges that when he picked the date for a first-ever national "Gun Appreciation Day," he took a peek at the political calendar. He scheduled the event for Saturday – two days before President Obama's inauguration – because he doesn't "mind poking the bear."
The comment, though, also shows how Mr. Ward's call for gun owners to rally around gun shops, shooting ranges, and the Second Amendment on Jan. 19 has become an easy mark for critics, who say many gun owners are risking their legitimacy by being tone-deaf to tragedy.
"Gun Appreciation Day" is patterned after "Chick-Fil-A Appreciation Day" last summer, which provided support for the fast food brand after it had come in for criticism for its stance on gay marriage. But the gun-rights event comes two days ahead of the holiday to honor Martin Luther King Jr., the civil rights leader slain by a sniper's bullet in 1968, and just over a month after a gunman used an assault-style rifle to kill 20 grade school students and six staffers at Sandy Hook Elementary in Newtown, Conn.
Ward says he's simply asking gun owners to show their faces in support at a time when political opponents are the ones exploiting tragedy to advance gun-control legislation. In the process, he and his backers hope that these faces will show America that gun ownership defies many accepted stereotypes.
"I expect and hope that this event will turn out people, including women, who will surprise those who are trying to portray us as a bunch of radical crazies," says Michael Hammond, the legislative consultant for Gun Owners of America in Springfield, Va., which bills itself as the "no-compromise gun lobby." "If we say nothing, we're attacked, if we say something we're attacked – the other side is going to attack everything we do. I think they're attacking [Ward] and this 'Gun Appreciation Day' because they're afraid it might have some impact, so good for him."
---